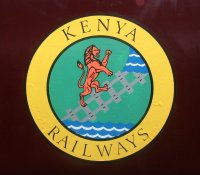 Steam In Kenya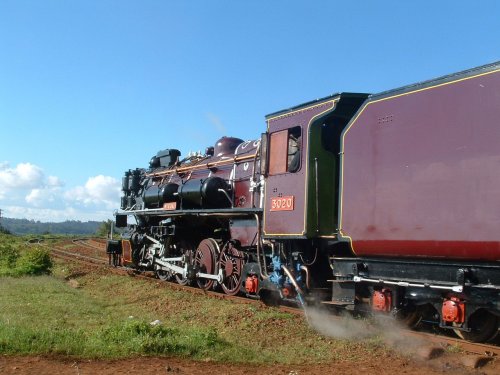 30 class 3020 "Nyaturu" (North British Locomotive Works, Glasgow, Scotland 1955) with 2-8-4 wheel arrangement and large six axel tender, above Kikuyu, December 2004.
In mid November 2004 I received an e-mail from Nairobi resident, Graham Roberts discussing the use of both active locos in the period December 5th to the12th 2004.
After weighing up coming changes with the railways and their on-going concessioning process, I decided to travel to Kenya at very short notice to try and correct for myself the disappointment of mid 2001 when after all the effort at the time, I had to leave before steam returned to KR.
I travelled Seattle-Amsterdam on a N.W.A. DC10, a really old bus for 2004 and Amsterdam -Nairobi on a K.L.M. MD11. Both were good flights which arrived on time. Flights were booked through Blue Sky Travel. www.blueskytravelinc.com/. Their price of 1150 USD was by far the best I could find. The prices on the main stream Internet for travel to Africa from the USA are a joke, up to 4000 USD.
Visa at the airport in Nairobi was 50 USD cash.
Taxi to / from the airport 1,000 Ks
I stayed at the Kuality Hotel in Hurlingham, approx 28 USD a day at the recommendation of Geoff Warren and Graham Roberts. It is a fine small private hotel. There is a very good Indian Restaurant attached as well as a "meat and potatoes" place called "Fusions" with a bar and a young crowd.
Mattau (Nissan 14 seat mini bus) #46 stops at the hotel in both directions, the fare is 20 "bob" (shillings) (25 cents) to the railway station. Service approx every 2-3 minutes during the day starting at 5 am.
Compared to three years ago the Mattau's have really cleaned up their image under the new government. One person to a seat, doors closed when moving (no aerial gymnastics by the conductor any more) seat belts for everyone, four wheels on the road, less black smoke. I used them every day, no issues.
With experience from 2001, I brought, using 50% of my baggage allowance, rags and brass polish from the USA for the team. We also picked up two-dozen railway related baseball hats from my good friends Paul and Mary Roy in Vancouver, Canada to take along. After Joe Kamu, the steam team leader handed them out, we had guys sporting everything from BC Rail Tumbler Ridge Electrics to the Alaska Railway to Montana Rail Link and the Great Northern.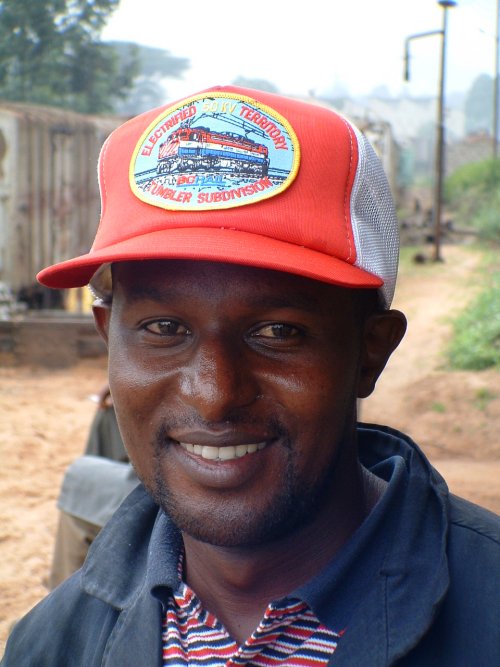 Simon Warari aged 32, married with two kids, time served Millwright, the youngest member of the KR steam team and a solid member of the human race wearing his BC Rail (Canada) Tumbler Ridge Electric Division hat.
In 2001 we had needed rags. We went to a stall on the side of the road and bought old t-shirts. Only to discover that we were buying better than some were wearing. It did not go over too well when we cut them up to make rags. I did not want to do that again.
Friday morning December 3rd, up early and headed down to the works. I stopped for a few minutes at the former site of the US Embassy, now a memorial park to the victims, mostly Kenyan, of the terror bombing of August 7th 1998.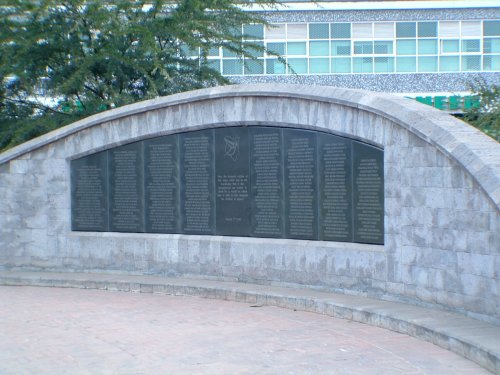 Memorial to those killed in the August 7th 1998 terror bombing
I presented myself at to the main works security guards at the gate at 7 am. I was welcomed inside the works with the guard just asking if I knew the way to the steam shop. I walked round to 6 shop to find, to my amazement, 5918 freshly painted in the correct maroon color scheme. Boy she looked good. After the welcomes and handshakes with everyone, I was advised that we would be heading out to Athi River on a test run later in the day. 5918 was lit up about 8 am. At noon she was driven over to the main station where she was presented to KR management who declared her atheistically fit for Sundays big event.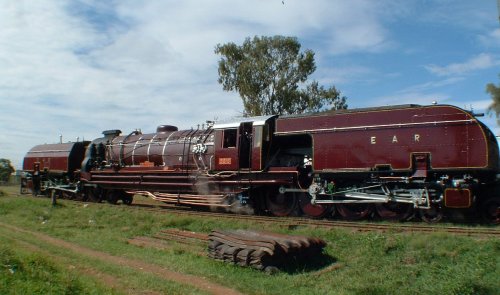 59 class Beyer-Garratt 4-8-2 + 2-8-4 5918 "Mount Gelai" (Beyer Peacock, Manchester England 1955) after a full repaint in the correct E.A.R. Maroon and much polishing of brass and copper pipe work, gleaming in the afternoon sun on a test run to Athi River.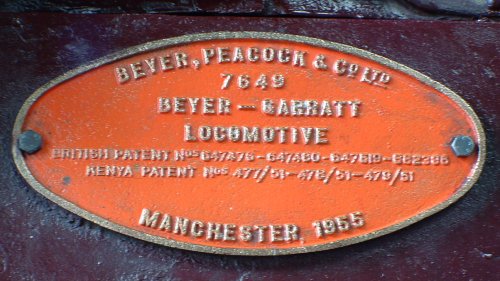 Replica builders plate on 5918
The test run went well from a mechanical point of view but we struggled with boiler pressure all the way back to Nairobi, the pressure dropping to 50 psi at one point. We did not stall, in fact, 5918 ran very well on 50 psi, another indication of her mechanical condition. Of course, roller bearings help. There were glum faces all round about what to do.
Here are three video clips of the Friday test run.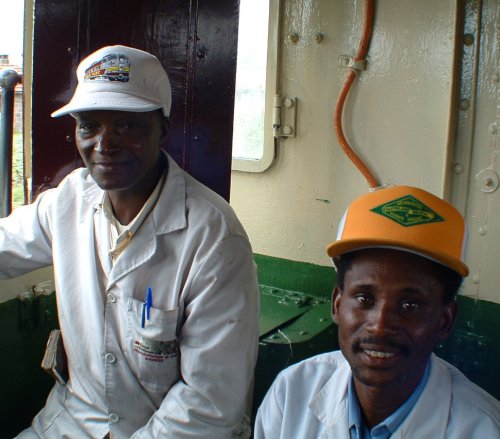 Joe Kamu and Benson Oungo (diesel engineer, acting as travelling loco inspector) in the cab of 5918, sporting their new hats and putting their best face on a difficult situation during the Friday test run.
Saturday morning the oil feed lines were checked front to back just to be sure there was no blockage. Bad oil, it was determined could be the only cause.
The loco oil tank was pumped dry and contents donated to one of the stationary boiler storage tanks in the main works foundry area.
We then transferred all of the remaining oil from the tender of 3020 to 5918 and lit the loco off for a second test run to Athi. Saturday, mid afternoon we took off again for Athi River. This time, pressure at will!, 200 psi all the way down and, more importantly back up to Nairobi, smiles all round. Importantly there was enough of this batch of oil for the big excursion the following day.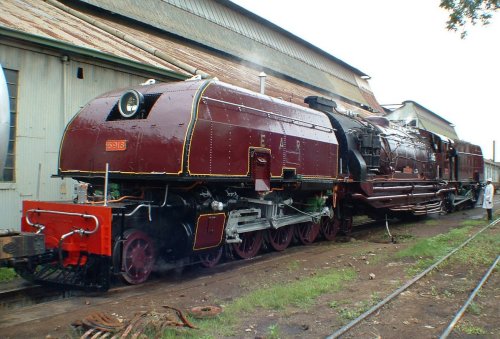 5918 outside 6 shop. Joe Kamu talking to the fireman
Click here for a video clip of 5918 easing on to the main works traverser on Saturday afternoon
5918 is in generally fine condition. She is well balanced and runs very smoothly. She does tend to blow piston rod packing a little too easily, an issue that remains unsolved but is probably related to machining tolerances in the packing brasses. Interestingly there are no issues with the universal joints in the steam pipes under the cab which plagued other classes of Garratt's including the Australian AD60's built the same year.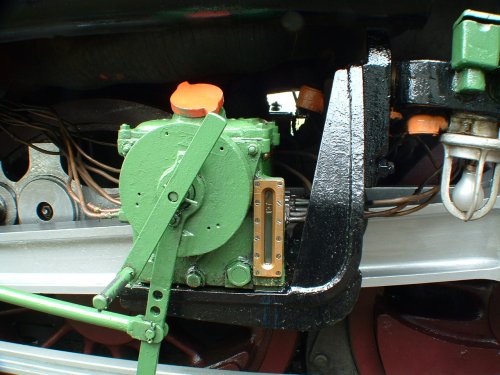 5918 Mechanical Lubricator
5918 was though, quite badly damaged when she was towed back from Mombasa in mid 2002 with the rods on. She was towed without any steam team supervision at diesel line speed. The entire set of plain rod bearings and all the piston rings had to be replaced, cylinder bores had to be honed and one tire has a flat on it to this day. It is not too serious in that it has been worked but Joe states he can still feel it. (I could not) The flat was caused when the loco was towed with the brake on causing the wheel set to skid.
Some of the steam team said they were left stranded in Mombasa with 5918 after the run of November 2001. They said they waited a few weeks for promises to materialize then drifted back to their villages. At that time they were not working for KR. They only get one line pass a year to ride the train.
While sitting in the hole at Embakasi on the Saturday evening after the second line test, we were visited by two armed solders. One of them wanted to see in the cab. As I was the only one up there at the time, I said "Fine, but please leave your gun down there". He said he could not do that so I said "OK, hand it up, the safety catch is on right?" So he hands up his gun by pointing it at me and here I am holding an AK-47 out at arms length by the business end like a dead fish.
What were the solders doing? I was told there are dozens of them out there 24 hours a day.
Embakasi is on the glide path for Nairobi airport, enough said…..
Glorious sunset across the Athi Plains that evening.
Sunday December 5th was the day of the most important steam operation of the modern era for Kenya Railways.
5918 was off shed at 10:35 am. She backed on to the train at 11:25. Five minutes early per the written orders. Departure was set for 1:00 pm.
5918 with 6, 3rd class day coaches, restaurant and buffet cars had been chartered by a private enterprise to haul approx. 500 people to a Heritage event near Athi River. This train was chartered for 350,000 Ks or approx 4,375 USD.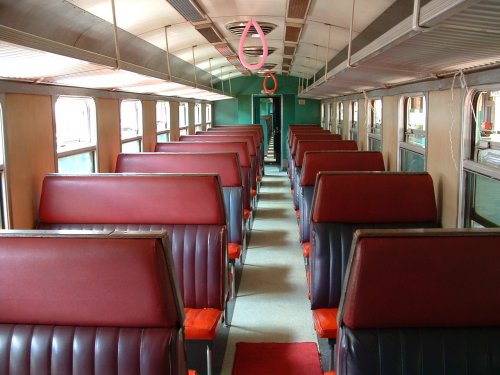 3rd class "Day Car"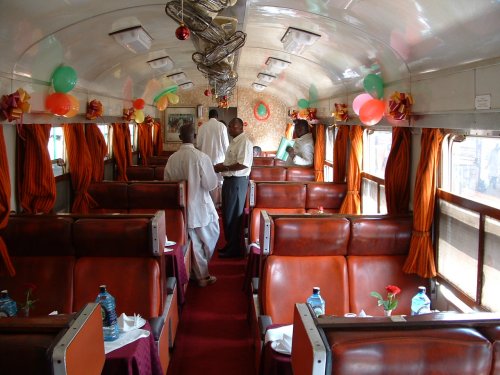 Restaurant Car
The passengers included two Government cabinet ministers, those of finance and tourism and the US Ambassador Mr. William Bellamy. They and many others visited the cab of the loco, which had benefited from many hours of cleaning and polishing.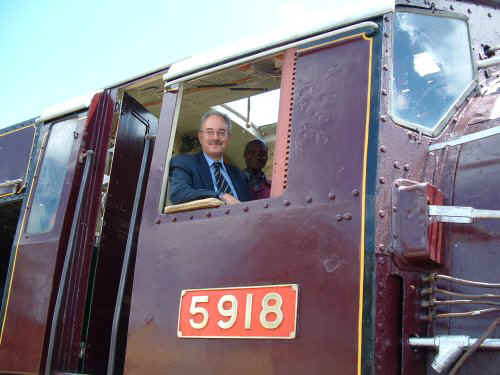 William Bellamy
The Managing Director of Kenya Railways, Mr. Andrew Wanyandeh brought his guests up front to visit the loco and meet the steam team who were lined up "on parade". Up to this point I had not met Andrew. He was recruited from a post at the UN just after I left in 2001. He had sure heard of me! he bounded up to me with his huge beaming smile grabbing my hand, introducing his guests and, his wife.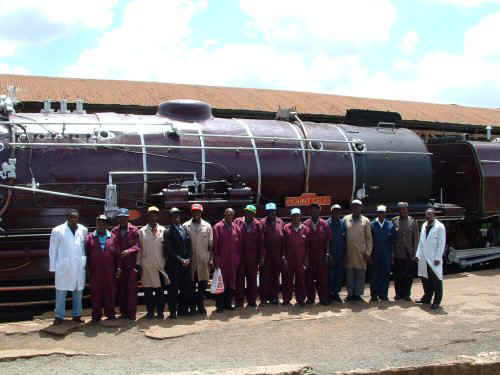 Steam Team on parade with the works manager James Thuo (right) and his engineer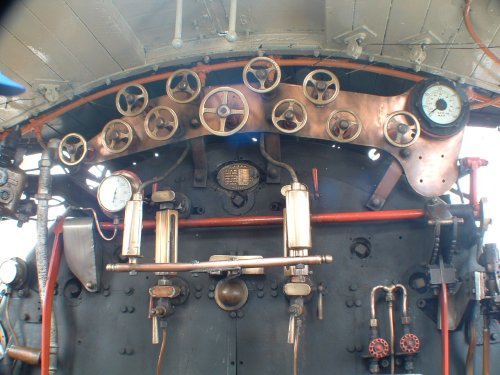 The cab of 5918
The instrument missing on the right is a clock which I believe is in the possession of long time driver Kirpal Singh in Mombasa.
At 1:20 pm we departed, the late departure caused by the late arrival of some VIP's and the difficulty of getting everyone on the train and seated.
5918 looked fantastic and performed flawlessly. We dropped the passengers at the Donavan house on the hills above Athi River then ran down to Athi River station, shunted the train and waited for the return working.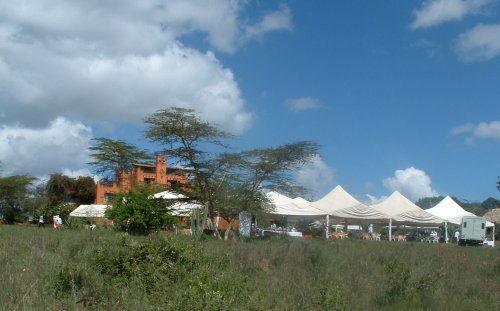 Donovan House with tents erected in the garden for the guests.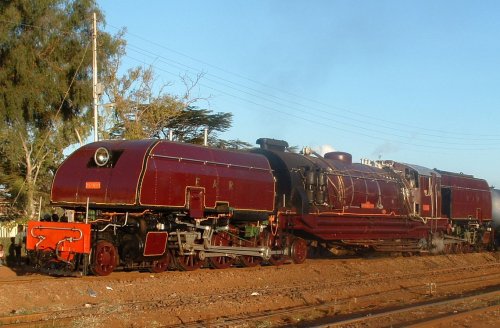 5918 sitting in the late afternoon sun at Athi River waiting for the return working.
We left Athi at 6:04 pm exactly, the diagrammed time.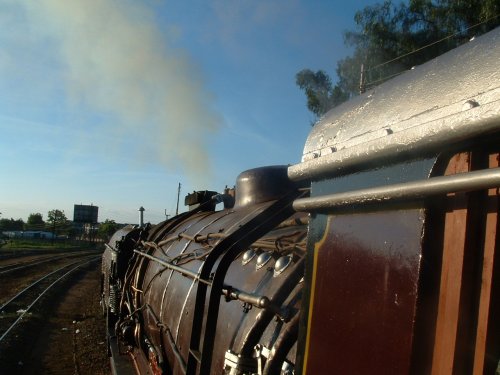 5918 leaving Athi River
We worked the loco quite hard up the grades to the house. As we climbed the grade, we gave some long sequenced blasts on the large low frequency chime whistle. I was told later, this caused many to leave their seats during the event to watch and photograph our arrival. "Heritage stuff, we see that all the time, this steam locomotive is something else" one person was heard to say.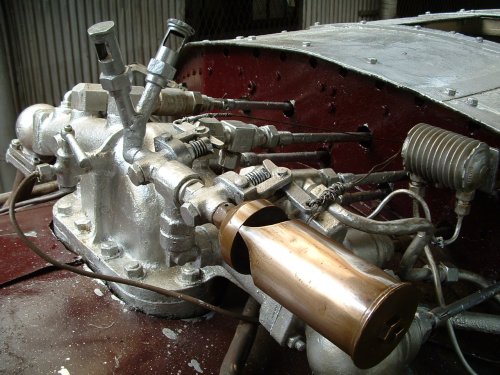 The unique and famous nest of three whistles on 5918
There was again a glorious sunset across the Athi Plains which many people photographed trying to include 5918.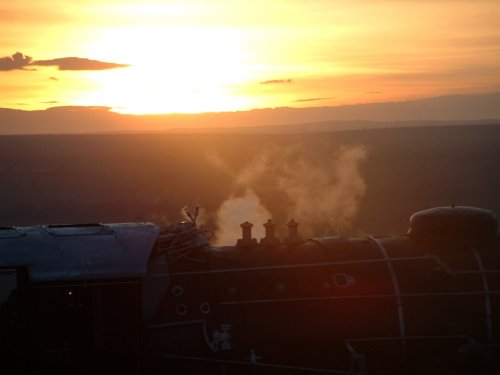 5918 sitting at the Donovan House high above Athi River at Sunset
A fast non-stop run back to Nairobi followed. The MD was positively glowing about the complements he was receiving from everyone on a splendid day out.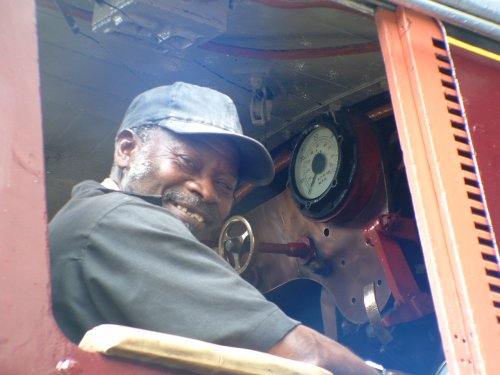 Ben Mouki, steam locomotive driver aged 61
Monday saw many newspaper and TV reports published on the event, which did two things. 1. Caused more bookings for the following weekends trip to Navishia and 2. Reinforced to the MD even more, the success of the event.
Andrew asked me to stop by on Monday, which I did. In the meeting, which was attended by some of his managers, I was very emphatic about the need for the correct grade of oil for the loco's to guarantee performance. We talked about several other subjects including the museum, the loco's stranded at the Railway Technical Institute and more overseas promotion of KR's ability to charter steam-powered trains for enthusiasts, tourists and film work. I offered to help with the latter.
Later Monday I returned to the workshops to find 8 guys painting 3020. Both loco's freshly painted with the correct grade of maroon paint for the first time since the 1970's was now a reality. I also found Joe pondering the oil situation.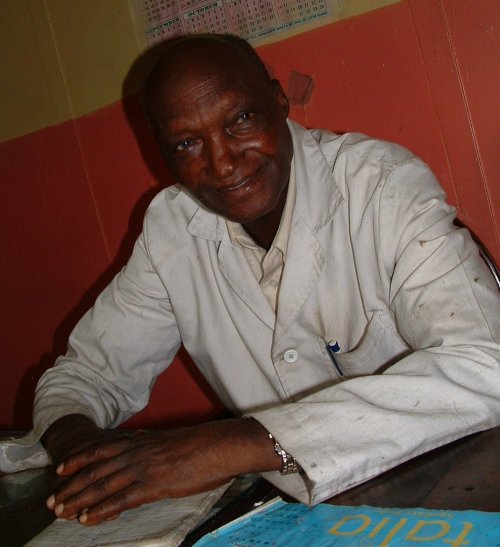 Joe Kamu, first African shed master on the E.A.R now steam team leader, aged 67
Even though we now had management's attention on the matter, Joe was very concerned that if we ordered another full oil tank car from Mombasa for the Navashia trip there was a high probability that we would receive sub-standard oil with no recovery time. Therefore as Monday came to a close, he decided to take a different approach. First we transferred all remaining oil from 5918 as that was known to be good. This would be enough for a line test of 3020 planned for Wednesday. He then went to the museum to check on a report Graham Roberts had given him. A report that the oil tank on 6006 was full to the brim. Indeed it was.
Tuesday morning early, Joe asked Millwright Simon Warari and I to go to the Museum and perform a burn test to verify if the oil was still in good condition. We performed the test and the oil burned well but having nothing to compare it to, we brought sample back to the workshop. There we did a sample side-by-side test of the 6006 oil with a sample of the remaining oil from 5918. The 6006 sample burned better. Joe told Ben and James the two drivers to get the oil tank car moved to the museum to transfer the 1,800 gallons of oil from 6006. Nobody knew why the tank was full but Joe was very clear he had no interest in ever running the loco again. "I have no interest in this locomotive, not a good design and very high maintenance" he said. The loco has plain main bearings.
An hour or so later a shunter came to 6 shop and hauled the oil tank car away.
Interestingly all the tank cars I saw were made in India in 1972 but were running on Gloucester trucks made in England.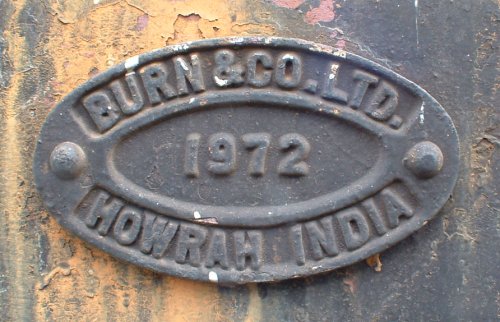 Builders plate from a KR Oil tank car
Since the meeting with the MD, I had been pondering the move of 2409 to the works. In 2001 we had written the numbers of three locos on the ready board in 6 shop 5918, 3020 and 2409. The numbers were still there. 5918 and now finally 3020 were in good shape. Was it time to move 2409? Several including Joe had told me that only the MD could/would give the approval to move the loco. I asked Joe if it would be too much of a burden on his team to look after three locos. He said "No", that they often now do other tasks in the main works when there is no charter work planned. Joe who owns a chicken farm south of Mombasa also said "Farming is boring, this is what I want to do".
So I walked over to the KR HQ building and into the MD's office and asked to see him.
A few minutes later he came out and asked me in. I told him about the oil in 6006 and how using it would save KR money. Further I told him we needed 2409 restored to operating condition for branch line work on steam charters and film work. That if he let me get it now, we would not even need a special movement to relocate it to 6 shop as we were shunting the tank car into the museum to get the oil from 6006 thereby saving even more money......
He called in the CME and a couple of other managers in then asked me to repeat the suggestion. He then told his managers he approved and they in turn made several calls to advise their people.
The shunter delivered the tank car to the museum but by now it was getting late so we decided to prep 2409 for a move on Thursday as Wednesday was going to be the line test for 3020.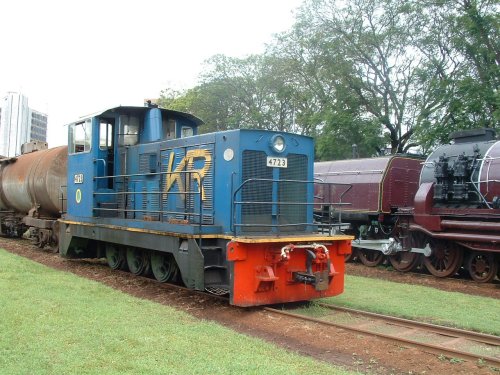 Hunslet Shunter 4723 along side 5930 in the museum delivering the oil tank car
These Hunslet shunters originally had Rolls-Royce "D" V8 engines. Some have been fitted with CAT power. Some were actually built in the works of the former Great Western Railway in Swindon, England.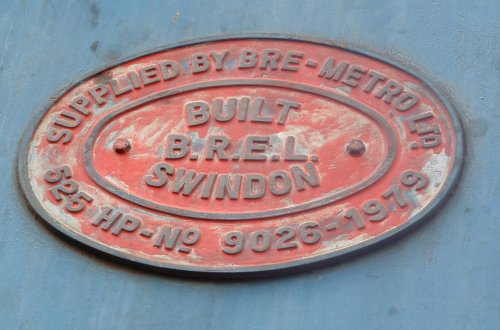 We worked for several hours on 2409 oiling and greasing and checking tender brasses. Graham Roberts advised that she had been moved a few feet some months earlier and sounded terrible.
I poured a couple of pints of steam cylinder oil down the blast pipe noting that 2409 would be pulled out of the museum in reverse which would cause the oil to be sucked into the cylinders.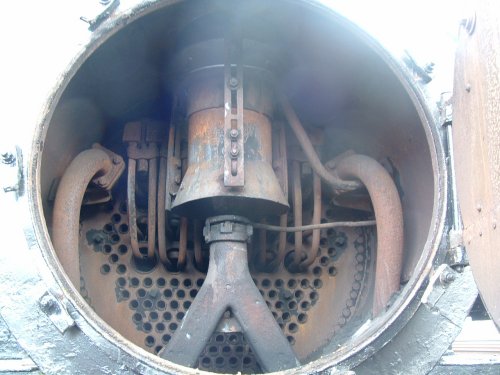 Smoke box of 2409.
Dry cylinders were an issue with 5918 in 2001. I did not have the tools to open them up for oiling, all the piping was gone. At least one cylinder "groaned" from lack of oil all the way to the works.
Upon completion of the oiling on 2409, we asked the west end shunter 4723 to come back and perform a test shunt of 20 feet or so. This they did and 2409 rolled smoothly. She was ready.
I stopped in at the station to ask the number of passengers for Saturday. The number had grown to 67. This was the maximum it would become. We actually left with approx 57.
It is said the break even number is 40 which, if all adults at 5500 Ks is 220,000 Ks so at 57 assuming, 50 adults and 7 kids the take would be approx. 303,000 Ks or just less than 4,000 USD
We walked back over to the works and found 3020 in light steam. By 6 pm she had 100 psi on the gage. She was then shut down for the night.
Wednesday morning 7 am she was lit up again in preparation for a line test to Kikuyu.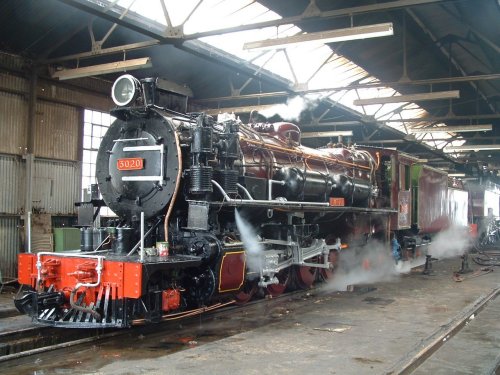 3020 on shed, freshly painted and polished, raising steam.
Approx. 10:30 am we moved off shed and worked our way over to the west end control box. There was a large Uganda bound freight being assembled that would be double headed as far as Kibera due to overnight rains and mud on the track. The mud on the rails is caused by hundreds of residents of Kibera township crossing the track and cleaning their shoes on the rails...The diesels went up first and we followed.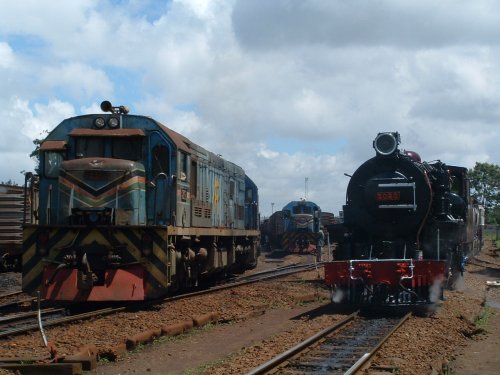 3020 waits for the road as a 93 and a 94 prepare to leave on a train for Uganda
3020 did OK but nothing spectacular. Section times were slow. We passed Kibera after a struggle, the rails were still slippery and much sand was needed. The pilot 94-class diesel from the previous freight was in the hole waiting to come back down as we headed on up the line.
We reached Kikuyu where we were placed in the hole immediately as there were two freight trains planning to cross there.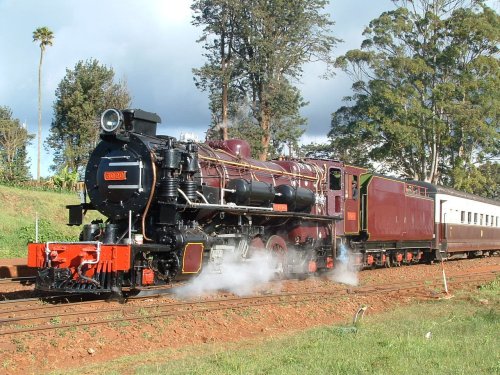 3020 at Kikuyu
We all piled into the station kiosk where Grace the owner served up the best tea and tomatoes sandwiches I'd had in a long while.
Sure enough, very soon afterwards, another westbound freight came up and stopped. The eastbound arrived about 30 minutes later. Both trains, close to the maximum length allowed (50 cars) and were soon on their way.
A couple of days later I was to meet a guy named Stuart Tate. Stuart told me the Thursday night west bound sleeper from Mombasa was 25 coaches and sold out. I personally was told that the Friday night sleeper to Mombasa from Nairobi was sold out. It was a holiday weekend (December 12th 1963 being independence day) but still impressive. To me the change in business levels since 2001 both passenger and freight was staggering. I recall camping overnight at Mount Longonot for two days and one night in 2001 and seeing one freight of maybe 10 cars and hearing just two others in the night and no passenger traffic at all.
After the departure of the two freights, we shunted our train and headed back to Nairobi. I told Grace we would be back at 9:00 am Saturday and to have the kettle on. She said she would.
On the return we were held at Kibera for quite a while for two westbound passenger trains to pass These were the evening commuter to Uplands and the overnight to Kisumu. Both came by heavily loaded.
Kisumu, Stuart Tate also told me that the SS Nyanza, the 1907 built steam ship is still sitting at the dock in good external condition. The issue he said, was that she emits too much black smoke while underway and has been banned from Ugandan and Tanzanian waters. The owner is an Indian gentleman, who's business is ferrying fuel oil to all points on the lake with a series of barges and tug boats.
Thursday the entire steam team was needed to go over the list of adjustments to be made from the line test including dropping all the rods from the RH side to check for the back of a pin rubbing on the face of the main driver. Therefore, two drivers, Ben and James and I headed over to the old steam shed, now the diesel stabling point for Nairobi to ask for the shunt of 2409 into 6 shop. We were told there was no driver available but we could take Henchel diesel 6217 and do the job ourselves. So we took 6217 and headed off to the museum. Getting to there took a while as we were asked to make several shunts of freight cars on the way.
Upon arrival at the museum we were to pick up the oil tank now containing the 1,800 gallons of oil from 6006, shunt 3123 to a better viewing position, shunt one of the passenger coaches away from 5930 to improve viewing and shunt 2401 again to improve viewing. This we did. We then hooked on to 2409 and towed it out of the museum.
The most noticeable thing when towing 2409 was the loud "chuff" from the chimney. Not any louder than any other regular loco but significantly louder than the Giesl ejector equipped 5918 and 3020. In fact the sound of 2409 really reinforced just how muted and dispersed the exhaust beat is on those two loco's. A point I was slow to notice beforehand.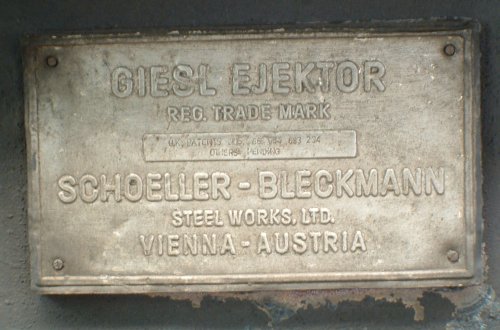 Plate on the stack of 3020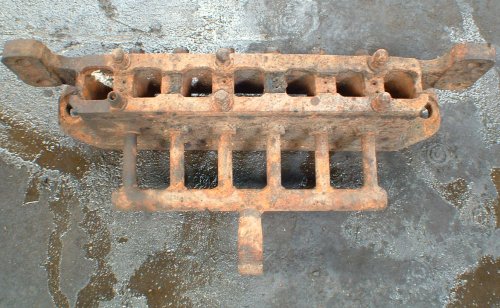 Spare Giesl Ejector sitting on the floor in 6 shop
The shunt of 2409 went off without a hitch. We wound our way back through the freight yard, James on 6217, Ben on 2409 and myself acting as yard switcher. We passed the old steam shed then propelled 2409 forward into the works yard just as we had done with 5918 in August 2001.
Click here to see 2409 on the move.
2409 rolls into the main works yard
2409 was duly parked outside 6 shop and 6217 returned to the diesel depot. We had our third loco.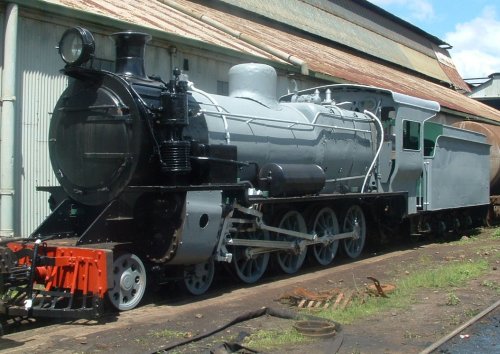 2409 as delivered to 6 shop
Compared to the move of 5918 in August 2001 which was mired in bureaucracy, meetings, mistrust and general difficulty as there were only three of the future steam team to help, no tools and never mind we had to pay 9000 Ks to KR to move their own loco. This move had been a breeze. And, Graham Robert's painting team had already given her a seriously good going over so she was presentable too.
It was 2 pm Thursday and upon walking back into 6 shop 3020 was a hive of activity receiving attention to the RH motion which was all over the floor and to the Westinghouse brake pump which by now contained the valve springs we had procured from Wales (purchased as insurance as there were no spares to be had in Kenya) earlier in the year and several other minor issues.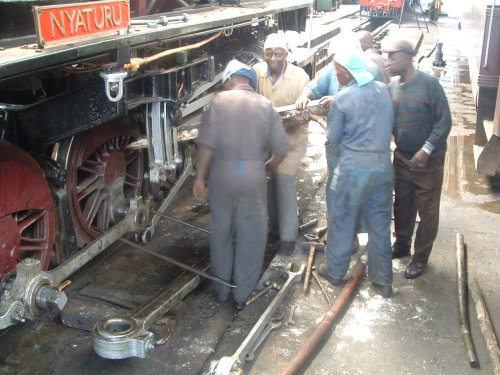 3020 with RH rods down. note the marks on the driver above the crank pin. Ronald Inziui the team electrician is looking up at the camera.
Joe had changed his mind on oil again. He decided not to use the oil from 6006, not because of calorific value but because of viscosity, he felt it was just too thick. There was now of course no time to order oil from Mombasa. After inspection the calorific value and viscosity of the oil in the storage tank used in the stationary boiler for steam cleaning rail oil tankers, Joe did a straight swap with the works manager, gallon for gallon.
The stationary boiler used for cleaning rail oil tanker cars prior to shopping for repairs. Now there is a story. The truth finally comes out after 15 years. I'm told that in approx. 1992 4-8-4 tank loco 1315 was moved from the museum for re-painting in the main works. The story has always been it was shunted into the wrong line and scrapped inadvertently. The reality is that a main works engineer who now works at the diesel shop east of town was under extreme pressure to resolve the issue of a condemned boiler used for steam cleaning the rail tank cars. He knew that 1315 had been shopped in the 70's and received an overhauled boiler. He took the boiler to resolve his issue and broke up the rest. The boiler is there today and in an ironic twist is now under the charge of Joe and the steam team who now take care of all the boilers in the main works.
Inside the main diesel engine shop the boiler off 6013 can be seen undergoing overhaul after recovery from Voi earlier this year.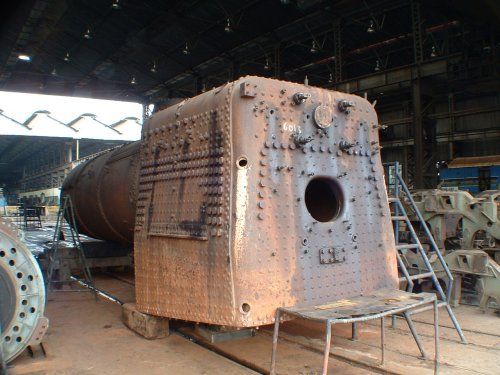 Boiler from 6013 sitting in the diesel engine repair shop
It is sitting close to the boiler the diesel engine shop uses for steam cleaning diesel engine cylinder blocks and heads. That boiler is dated 31-8-28, and was built by Beyer-Peacock for the K.U.R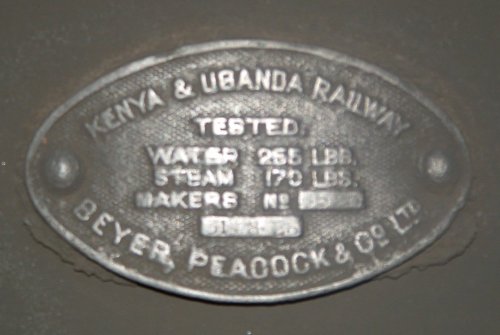 Boiler ID plate
Friday morning 3020 was back together, 2409 was shunted into 6 shop and 3020 taken away for oiling. The shop was given a good cleaning in preparation for 3020's return.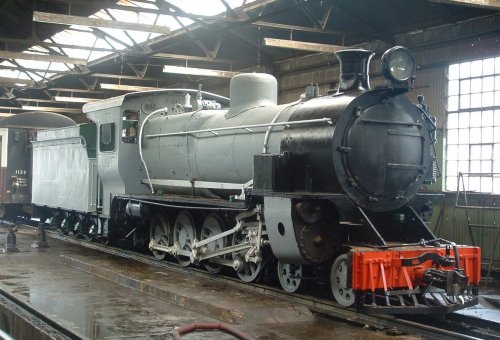 K.U.R.170 (E.A.R. 2409) (Vulcan Foundry, Newton-Le-Willows, Lancashire, England 1924) inside 6 shop of the KR main works.
She is completely devoid of number or builders plates.
The steam team were planning to stay on site all night in their "new" crew coach, a 1953 built Metro Cammell 1st class unit that had Joe "appropriated". 3020 was returned and lit up mid afternoon to be held in steam all night as the off shed time was set for 5:30 am.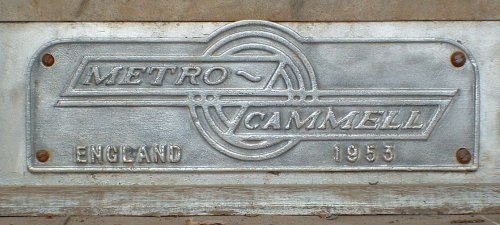 Saturday morning dawned as the first since I arrived without overnight rain. I decided to meet the Guys at the main station where I arrived at 5:30 in time to hear the off-shed whistle at 5:35. I watched the catering staff loading their supplies into the already staged passenger cars as I also observed 3020's progress as it wound its way through the freight yard. 3020 hooked on at 6:30 am and was immediately surrounded by expectant passengers taking their photo's.
We departed at 7:20. Again a late departure because of late arriving passengers and the general difficulty in getting them on the train instead of taking photo's.
We stormed out of Nairobi with Ben, James and Joe determined to put on a good show after the difficulties of previous excursions with one train not arriving in Navishia until 5 pm
It was an extremely good effort with the loco making good power all the way. 170-180 psi was easily maintained at will. Kibera section at that time of the morning is always going to be difficult but we got through really better than I'd expected by sanding heavily. There is a short downhill section just past Dolgoretti which is the usual place to crack the loco wide open and sand the tubes. This we did on both runs. I'd think that would be a good place for a line-side video shot, massive amounts of black smoke and some good speed.
We stopped at Kikuyu to oil round and to start water transfer from the tank car. We had also used all of our sand on the climb so far and needed to fill up the sanders from our spare buckets. It was 8:55 am and Grace was looking out for us. She saw me wave from the cab and immediately had cups of tea ready on the counter.
Click here to see 3020 on a photo run past at Limeru Tunnel.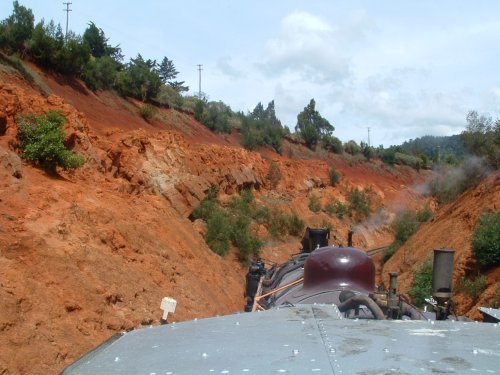 Sitting on top of the oil tank, rolling downhill into the rift valley.
The section times taken from the driver's notes are as follows:
NRB Dep 7:20
KBE 7:55
DGT 8:20
KYU Arr 8:55 Dep 9:05
LMU 10:02
UPL 10:30
MUH 11:00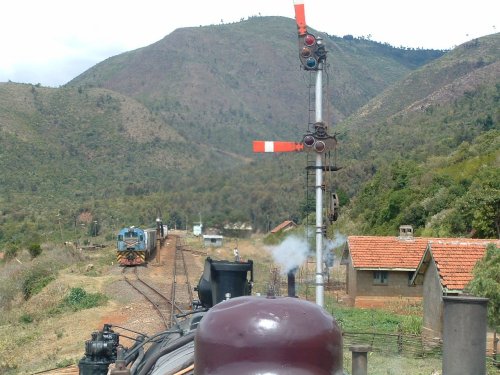 Rolling into section with an eastbound freight waiting in the hole.
KJB 11:30
LON 11:55
SSW 12:22
MUY 12:42
NSA 13:00
While I had seen the Great Rift Valley in 2001 I had not been prepared for the absolutely awesome view as we rolled over the summit west of Uplands. The scenery between Kikuyu and the summit was itself impressive, coffee and tea plantations, forested lands and cattle grazing on lands similar to Colorado in the USA. But nothing compared to the views across the Great Rift Valley......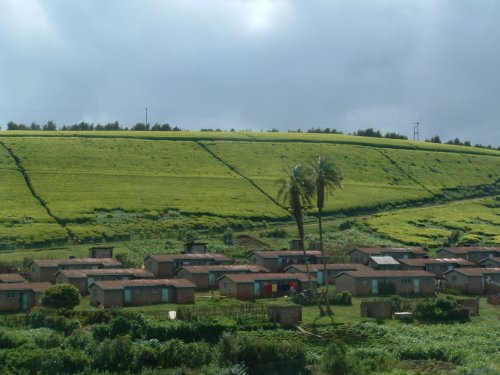 Tea Plantations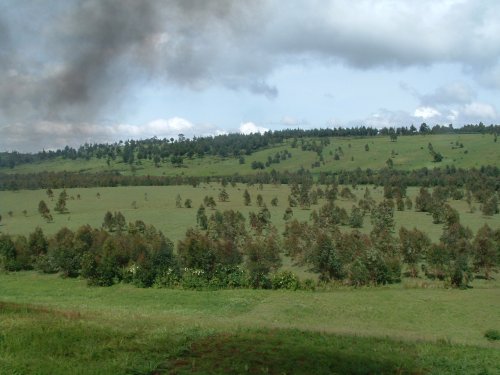 Uplands Ranch Country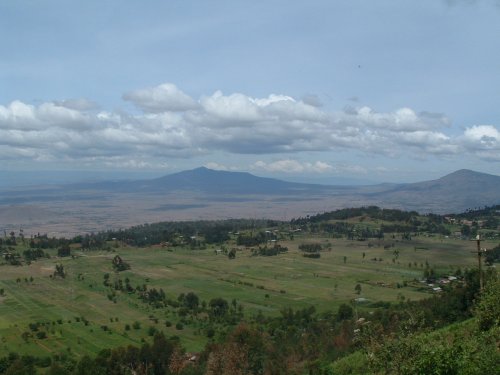 Great Rift Valley with Mount Longonot in the center distance
Looking up at Mount Longonot caused me to reflect back to 2001 once again. I climbed the mountain with a group of local Kenyans. They told me it was an extinct volcano. Upon reaching the crater and peering over the side, I was greeted with venting steam. I said "I thought you said this thing was extinct!". After some deliberation the reply came "Oh sorry", "we meant dormant"…..Mount Saint Helens, just down the road from where I live was considered dormant too!
We saw some wildlife including a black and white longhaired Monkey, which is called, I believe, a Colobus. It jumped out of a crevasse right in front of us. The park ranger, when we described it said he was surprised it was there at all saying that they normally were found on Mount Kenya and the Tanzanian highlands.
When we returned to the park ranger's office, I observed four Rangers with AK-47 rifles herding about 60 head of cattle. I asked what they were doing and was told. "These are Masai cattle, this is a national park, they are not allowed to graze their cattle here. We cannot find the Masai so we arrest the cattle"….. The cattle upon seeing the compound where they were to be held almost ran inside as the grass was lush compared to the scrub outside.
Because of the difficulties of previous excursions a diesel was booked to take us back to Nairobi, one excursion not arriving home until midnight previously. Can you imagine the look on the diesel drivers face after we pulled in at 1 pm and he rolled in at 1:20 pm with 9308 from Nakuru light engine and we were sitting there? I'm sure he been told to expect us after 3 pm.
As it was, we had another issue. Upon arrival at Longonot I'd noticed the driver using the loco steam brake to help control train speed. Nothing was said, at least in English and I did not want to say anything (by doing so questioning the drivers technique) but something must have been wrong.
Upon arrival at Navishia, the CXE (Carriage and wagon) passenger car examination foreman from Nairobi who had been traveling with us failed the loco saying we had a damaged number 6 Westinghouse brake stand in the cab, a diaphragm had probably punctured he suggested.
So while the passengers were down at the lake, the train was re-assembled 9308, 3020 (tender first) water tank, passenger coaches, and caboose for the return journey.
Caboose used on both excursions
Unfortunately although the driver of 9308 was an ex steam driver, recalled to daily diesel driving duties, as have many in recent times because of increased traffic and a general driver shortage, known to Joe and the steam team and, the KR rule that steam loco's must not be towed at more than 10 mph with the rods on. He ran at speeds approaching 40 mph. We left at approx. 4:45 pm and arrived in Nairobi at 7:50 pm
I don't question using the diesel to get the passengers home but 3020 should have followed light engine. On arrival in Nairobi you could have fried an egg on the rod bearings and cylinders. I'm sure there was some damage.
Still, it was still an excellent day, the loco really ran well, benefiting from all the attention the guys have poured on to it in the past 12 months and, I'm sure from the tire re-profiling done earlier in the year. It is certainly not the wreck that was pushed into the museum in 1981 after several years of very hard use as the Nairobi yard and trip loco.. We had arrived 2 hours earlier in Navishia than any previous excursion and a good day was had by all.
Personally, I had erased the disappointment of 2001, 5 trips out on the line with two loco's, I'd seen them both at their best, mechanically and atheistically, both finally repainted in the correct colors, traveled in the cab of both and driven one of the most famous locos ever to grace the rails, 59 class 5918 "Mount Gelai", I'd had an excellent time with 3020 also and we even got 2409 pulled out of the museum.
All that remained was for the end of year, now annual Christmas party for the steam team scheduled for Sunday the 12th. The team, which varies in age from 32 to 73, has melded together well over the past three and a half years. 12 of them, who go way back are all recalled retirees. They are on one-year renewable contracts with KR. Three including Simon are full time employees of KR. None has been paid regularly in the recent past and were still trying to collect their October pay when I left. The party went well, eating meat is a treat for them. They ordered a massive 14 kg of goat between the fifteen of them and emptied three crates of beer and soda........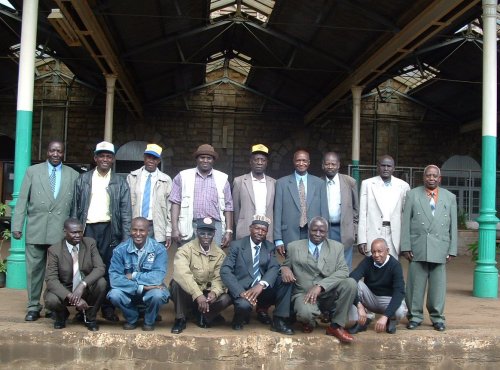 Kenya Railways "Steam Team" assembled at Nairobi Station prior to the 2004 party.
I had a copy of Kevin Patience 1996 book "Steam Twilight" with me. I read a sentence to the Steam Team. It said:
"Despite continuing interest, is unlikely that the largest of all Garratt's will ever be seen in steam again."
15 voices said "He is wrong!"
Then several voices said "He should write his book again!"
Cheers!, James Kolonzo is 2nd from left. Ben the driver and his fireman, James on the right.
They went home a happy group and so did I.
To charter a train on KR, steam or diesel for enthusiasts, tourism or for a filming,
contact: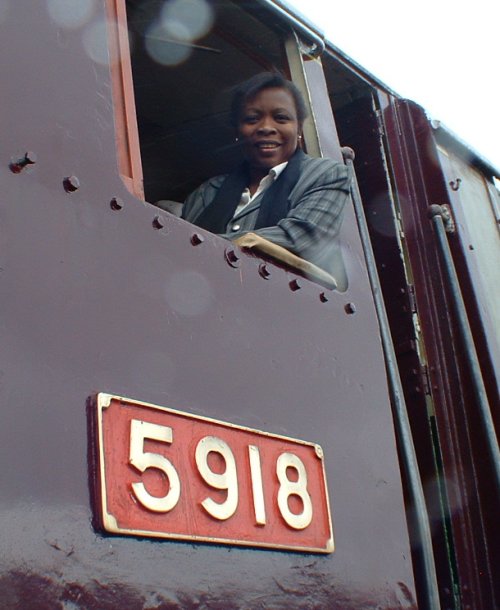 Ms Masha Namoya
Passenger Services Manager (PSM)
Kenya Railways
Box 30121-00100
Nairobi, Kenya
Tel (254) 2-221211
Fax (254 2-340049 (preferred)
---
Big thanks to Graham and Avril Roberts in Nairobi, Geoff Warren in England, Rob Dickinson in China, to the management and employees of KR to whom I made many requests for assistance and advice, many of whom went way beyond the call of duty to help me and the steam program. And, of course to Joe and his team without whom nothing would be possible.
No thanks at all to Ian Wright of Sheffield Railway Auctions in England who first claimed museum exhibit, 59 class 5930 "Mount Shenenga" did not exist, then proceeded to auction off it's original builders plate despite our requests for help to recover it for the museum as it was being sold without proof of ownership. In doing so, in any case, preventing either it's recovery or copies from it being made for the loco, all during the same time period of when I was in Kenya.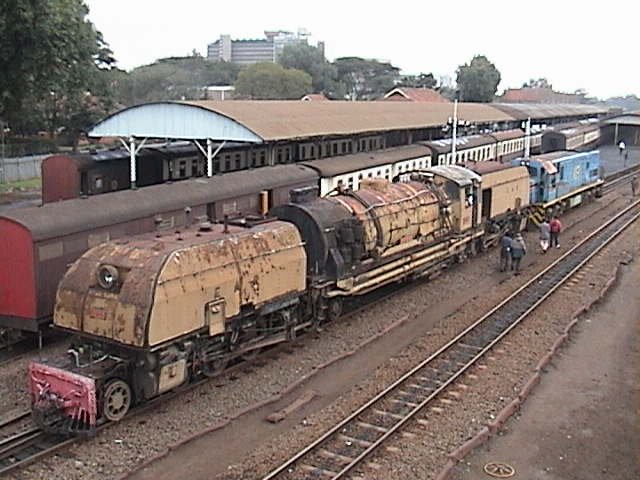 As a footnote, I've included this image of 5918 from August 2nd 2001 the day she was removed from the museum, the start of the steam revival in Kenya and a graphic reminder of just how far we have progressed. In addition to its external appearance, 5918 had a bent main connecting rod, a blown cylinder cover and cracked cylinder casting. Much pipe-work and other fittings had been stolen. It is also a reminder of what a fantastic job Graham Roberts and his painting team have done with the locomotive exhibits at the Museum.
2409 was just as bad, if not worse. 3020 was in a pathetic state both ascetically and mechanically.
James Kolonzo, the first of the retirees to show up and help prepare the loco for its move and the man who went on a midnight run to fetch Joe Kamu from south of Mombasa to lead the project, is in the cab. Ben and James the soon to be driver and firemen are walking alongside with a CXE examiner and a shunter.
Further information and images
More before and after images showing the restoration of Museum exhibits can be seen here
Malcolm McCrow's website is excellent, click here
If Kenyan diesel loco's are of interest to you, take a look here
There is a newsgroup on Yahoo called East African Steam, which is free to all interested in the East African Railways. Go to http://groups.yahoo.com/ and search on "East African Steam" or, send an e-mail by clicking here East_African_Steam-subscribe@yahoogroups.com
If you are interested the remaining steam locomotive activity in developing countries, Rob Dickinson maintains a web site here. His site also lists the majority of steam powered excursions planned in those countries.
Click here to review the Nairobi Railway Museum web site maintained by Graeme Wall.
Trevor Heath
Port Orchard, Washington USA
December 2004
trevor dot heath at wavecable dot com
---